There's a new Lean-related blog out on the interwebs about math calculations as they relate to Lean. The blog? LeanMath.com. They're working on putting easy-to-understand spins on some less-than-obvious definitions and formulas that help to identify opportunities for improvement in operations.
There are a few word-based ways to define efficiency – ratio of work done by a machine relative to the energy consumed by the machine, or ability to accomplish a task with minimal expenditure of effort are a couple of them.
However, from a sports AND operations perspective, a definition of efficiency I'd like to examine is the ratio of successful attempts or conversions relative to the number of opportunities taken to convert or attempt. This ratio is focused on defect rates and how often the results we expect are actually achieved.
~~~
The Miami Heat have won seventeen straight games and 22 of their last 24 dating back to late January. During the winning streak, LeBron James put together a string of shooting performances that are darn near historic.
To set the baseline, guards and forwards tend to shoot about or below 50% from the field (field goal percentage) because they don't spend the majority of their time down low near the rim. They shoot a lot of jump shots as opposed to banging against defenders down low for layups like power forwards and centers (who will shoot upwards of 60%).
However, during this seventeen-game winning streak, LeBron James put up the following field goal percentages in a stretch of nine games:
.625
.929
.611
.818
.667
.733
.583
.533
.733
Those are some incredible efficiency rates – every time he shot the ball, there was a 60% chance of hitting his shot (or better).
(H/T to Brian Vrablic for pointing out LeBron's incredible shooting "zone" during the streak!)
~~~
Speaking of incredible shooting, Indiana University guard Victor Oladipo is having an out-of-nowhere season thanks in large part to his stellar field goal efficiency (in addition to swarming defense and leadership). On the season he is shooting 63% from the field, which is again absolutely phenomenal for a guard.
He does a lot of driving and slashing to the lane for layups, which certainly are high-percentage shots, but he has also greatly improved on his outside shooting. Example? On three-point field goal attempts, he has exploded from 20% last season to 49% this season (shooting better than 35% on three pointers is excellent).
As a result, Indiana is in the hunt for the national championship and Oladipo is a top contender for national player of the year award.
~~~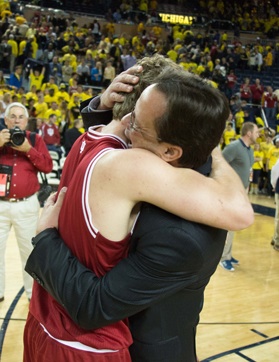 And now speaking of those Hoosiers, they have spent the entire season ranked near the top of the polls and a large part of the season at #1. Now they've won the Big Ten regular season championship with a victory over Michigan.
What are some of the secrets to their success? They're one of the most efficient teams in the country.
There are two metrics to examine together when considering team efficiency (I concede there are lots of others but these two are easiest to understand): points per possession and margin of victory.
Points per possession is pretty easy to understand. Every game the two opponents will have roughly the same number of possessions. Possessions are successful based on how many points were converted. Unsuccessful possessions include not only missed shots but also turnovers. Because the ball is always in one team's possession and it's always traded after scores, the possessions should be about equal overall.
So the keys to winning basketball games (as the overarching goal as opposed to the strategy) is to maximize your points per possession and minimize those of the opposing team.
So as of 3/11, here are Indiana's ranks in both points per possession on offense and points per possession given up on defense in 2012-2013:
Offense: 1.156 (ranked #1)
Defense: 0.883 (ranked #16)
That is a per-possession difference of .273. On average, Indiana will score one more point than their opponent for every four Indiana possessions.
It's one thing to have a great offensive efficiency, but means a lot more if you pair that with an equally-powerful defensive efficiency. There are teams that have great offensive efficiency but can't stop anyone on defense, so they stagnate and don't rise to the top.
But based on those numbers for per-possession efficiency, how can we tell how strong Indiana really is? How about scoring margin per game?
Average Margin: 19.1 ppg (ranked #1)
Efficiency is about getting the most out of your possessions and maximizing your chances of success.
Do you like this post? Give Lean Blitz a follow and a like!
Follow us on Twitter at @LeanBlitz, subscribe to the blog, and "like" us on Facebook!